Xa2-PRO "S" Plug'n'Play Hornloaded System • 2 x FX12-PRO + 2 x FX20-PRO + 2 x L3600FD • Cables & Case NOT INCLUDED!
XA2-PRO is a complete plug and play system for applications that require Hi-SPL output, flexibility in set-up and easy set-up and transportation. The XA2-PRO system is combines the advantages of the previous XA2 with a new, fresh look due to a heavy-duty structured lacquer surface and new solid-steel front grilles. To obtain the highest possible on-axis sound pressure levels, the XA-2 PRO features a complete horn-loaded system design. Typical Top-40 gigs, open air events in the cities and mobile DJ applications requiring up to 1000 m2 of coverage and 40 meter throws are the ideal applications.
High-quality neodymium components combined with new Constant Q horns and patented planar waveguide bass horns deliver maximum sound pressure and outstanding audio performance. The L3600FD power amplifiers with their integrated FIR-Drive DSP are capable of driving a very wide range of rig configurations with absolute reliability and simplicity. With VCTP (Voice-Coil-Tracking-Protection) safety circuits in the cabinets allow the widest possible dynamic range combined with the highest degree of security. Simple transportation, fast setting-up times and easy cabling are just some of the important practical advantages of the XA2-PRO systems. The components of the Xa-2 can be quickly and easily configured to cover a wide range of different sound reinforcement applications in various venues.
The "S" XA2-PRO system contains 2 FX12-PRO mid/hi cabinets, 2 FX20-PRO subwoofers and 2 L3600FD amplifiers. The Multi Amplifier Remote Control (MARC) software allows to control and supervise the system from FOH with additional graphic and parametric EQs.
• Cables & Case NOT INCLUDED!
• Optional Flying Bracket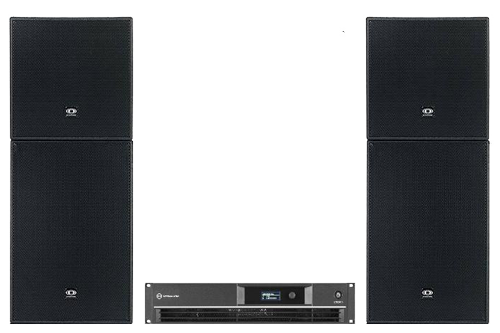 Bundle offer comprising:
2x Dynacord FX12-PRO
• Passive midrange and tweeter
• Speaker configuration: 12" ND 12 A midrange driver and 2.4" ND 6 tweeter driver
• 80° x 40° constant directivity horn
• Power handling: 350 Watt (RMS)
• Maximum output level: 106 dB (1W / 1 m)
• Frequency range: 120 - 19.000 Hz
• Impedance: 8 Ohm
• Cabinet construction
• Coaxial arrangement
• For medium long distances
• Connectors: 2 x Neutrik SpeakOn NL4 In and Thru
• Cabinet made of 15 mm birch plywood
• 4 Castors
• 2 Handles
• Dimensions: 594 x 601 x 808 mm
• Weight: 49.5 kg
• Colour: Black
2x Dynacord FX20-PRO
• Passive Bass Speaker
• Loudspeaker configuration: KElectro-Voice EVX 180B 18" woofer
• Planar waveguide bass horn
• Power handling: 600 Watt (RMS)
• Maximum level: 101 dB (1W / 1 m)
• Impedance: 8 Ohm
• Frequency range: 30 - 150 Hz
• Connectors: 2 x Neutrik SpeakOn NL4 In and Thru
• 15 mm Birch plywood cabinet
• 4 Casters
• 6 Handles
• Dimensions: 610 x 905 x 814 mm
• Weight: 60.5 kg
• Colour: Black
1x Dynacord L3600FD DSP
• Live Performance DSP Amplifier
• 2-Ohm stability
• Intuitive system control software for easy setup and control
• Balanced XLR in / out
• Speaker Twist connectors
• Dimensions (W x H x D): 483 x 88 x 462.4 mm
• Weight: 18.2 kg
Maximum Power Single Channel:
• 2 Ohm: 3200 W
• 2.7 Ohm: 2700 W
• 4 Ohm: 1800 W
• 8 Ohm: 950 W
Maximum Power Dual Channel:
• 2.7 Ohm: 2500 W
• 4 Ohm: 1700 W
• 8 Ohm: 900 W
• Bridged: 4 Ohm: 6000 W
• Bridged 8 Ohm: 3400 W