FREE YOUR INSPIRATION WITH VOCAL CREATION
Hear your own lyrics sung as you play the melody on the keyboard! Using Casio's unique Vocal Synthesis sound source technology the CT-S1000V takes lyrics from your smart device and—using one of the range of built-in vocal tones—lets you play the vocal line using the keyboard.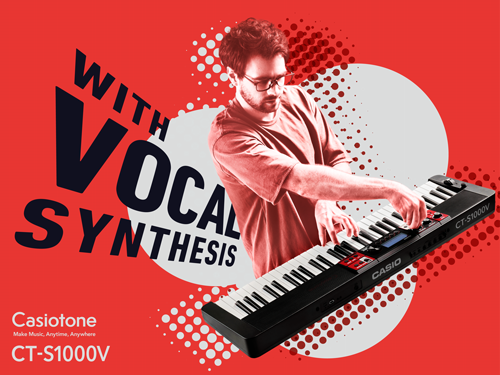 The CT-S1000V is an instrument that redefines the concept of a keyboard and how it's played. It lets you bring vocals to your performance as intuitively as if you were humming them. As you play the keyboard, the words of the lyrics are sung in sequence to create a vocal line. You can also change the voice tone, add and tweak effects in real time while playing, and generally get creative with your performance. Beyond that there are 800 tones to explore, including a collection of ADVANCED TONES, which push the AiX Sound Source to new limits of expression, and the CASIO CLASSIC TONES, which reference the classic sounds of Casio's lineage of synthesizer keyboards.
Vocal Synthesis
Vocal Synthesis produces a singing voice through a combination of lyrics and voice tone. The CT-S1000V comes with 100 pre-built lyrics to get you started, but the real fun happens when you create and save your own lyrics on the dedicated app. There are 22 preset vocal tones (vocalists), each with its own distinctive character. Each vocalist can be further manipulated with front panel controls for age, gender, vibrato and more.
Effects
Naturally, the CT-S1000V comes with a wide range of built-in effects—100 in total including compressor, phaser, distortion and wah. Chains of four different effects can be applied to any tone, and thanks to Casio's Active DSP you can assign effect parameters to the front panel knobs for dynamic, real-time tweaking. Additionally, there are system-wide chorus, delay and reverb effects.
Sound
The CT-S1000V has two built-in speakers that pack a surprising punch thanks to Casio's unique Horizontal Bass-Reflex System, which is capable of producing powerful low-frequency sound. A surround function adds width and depth to the sound, while the Volume Sync Equalizer ensures that the tonal balance of the sound is maintained when you adjust the volume, providing added depth and weight even when playing at low volume. All in all, the CT-S1000V delivers sound that completely belies its compact dimensions.
Sampling
The CT-S1000V's sampling capability means you can import your own sounds from a smart device to use as a unique Sampling Melody Tone or Sampling Drum Tones. When imported as a Melody Tone, the imported audio can be played as pitched notes, while audio imported as Drum Tones can be set to replace individual hits in a drum set. Maximum sample time is about 10 seconds for the Melody Tone and about three seconds for each Drum Tone. Experiment with different kinds of sounds, such as your own voice or environmental backgrounds, then add effects and control parameters in real time with the Active DSP function. Discover your own musical originality.
Connectivity
The CT-S1000V plays nicely with your other gear, too, thanks to its comprehensive lineup of external connections. The standard line out jacks are ideal for hooking up to a keyboard amplifier, mixer or other equipment for recording or live performances, and the built-in speakers can be muted if required. Connection to other MIDI-compatible equipment is fully supported, enabling the CT-S1000V to be used as a MIDI-controlled sound source or as a MIDI controller. You can even use the CT-S1000V as a Bluetooth® speaker for your smartphone or tablet using the Bluetooth® audio function.
• 61 touch responsive piano-style keys
• Vocal Synthesis function
• 800 sounds + 100 lyric tones, 243 built-in rhythms
• Wireless MIDI and Audio Adaptor