Digital Mixer
• With Bluetooth audio and USB audio interface
• 2 Mono channels with microphone inputs: XLR (+48 V phantom power switchable)
• 2 Mono channels for microphone and line signals: XLR / TRS combo socket
• 2 Stereo channels for line and instrument signals: 6.3 mm jack
• Per channel: 4-band EQ and compressor
• Stereo main output with 9-band EQ and limiter: XLR
• 2 Monitor outputs: 6.3 mm jack
• Stereo headphone output: 6.3 mm jack
• Foot switch input: 6.3 mm jack
• USB-B port for audio transmission
• Micro USB port for power supply
• 60 mm Fader
• 2 Effects processors with 16 effects
• Fully controllable via the Behringer FLOW Control App (available for Android and iOS)
• Bluetooth audio for direct streaming from smartphones or tablets
• 24 Bit / 48 kHz USB audio interface with 10 inputs and 2 outputs
• Dimensions (W x D x H): 229 x 172 x 48 mm
• Weight: 1.4 kg
• Includes external power supply unit (5 V DC)
Digital Mixing with Ease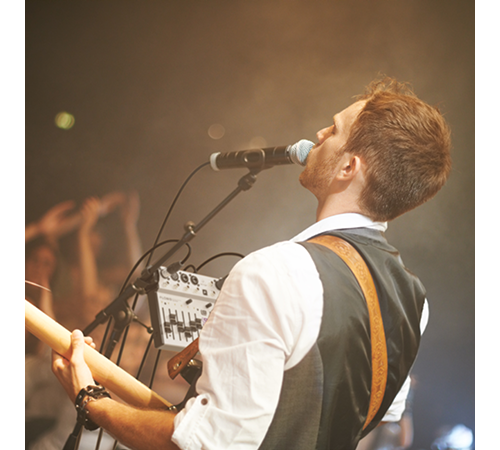 Digital mixers offer studio quality processing, the highest fidelity, the ability to recall all settings and even remote operation. Those are hugely attractive features, but they all come at a cost - with bigger physical size and more complex operation requiring at least some degree of technical audio education.
The millions of analog small format mixers that Behringer has built over the years clearly tell us that there are many users who need a mixer that is compact, affordable, dependable and easy to operate.
Typical applications very often just need to balance the level of a handful of sources. So, why make things more complicated than they need to be? It is time for something genuinely new, providing modern features and workflows to everyone in a simple and compact form – it is time for FLOW 8 digital mixing.
EZ-GAIN Assisted Gain Staging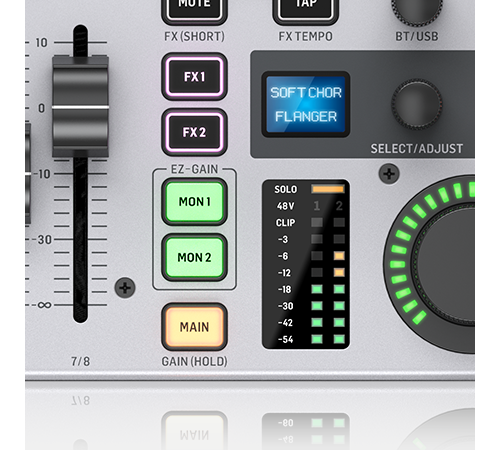 Have you ever heard someone say, "you need to pay attention to your gain staging?" Do you know what the "gain structure" is about? When you are interested in clean and healthy signals, with low noise and low harmonic distortion then adjusting the right amount of preamp gain is paramount. It is defining the amount of amplification a signal gets when entering the mixer. Since source signals can be anything from a strong hit on the snare drum, to the subtle hum of bees, there is not one gain that fits all possible purposes.
Gain staging is always a compromise and finding the right one requires either experience and technical knowledge, or the new FLOW 8 EZ-GAIN feature. The function can monitor signals on one or all channels at the same time, until you think the loudest sounds have been put to it. EZ-GAIN will then automatically adjust the channel gain to the optimum headroom.
Oh, by the way, EZ-GAIN will automatically engage the 48 V phantom power on mic inputs 1 or 2 when no signal is detected, just in case you forgot to do that.
Full App Remote Control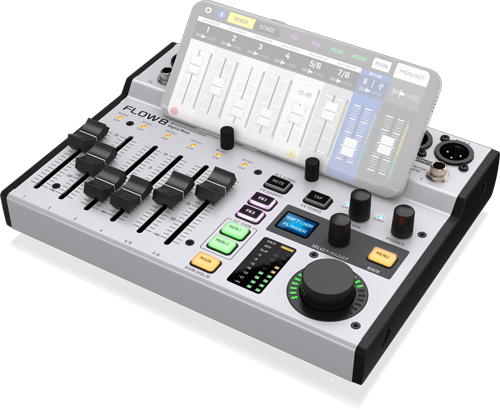 Let's face it, small mixers are more often placed where cables end, rather than in a position where it would be most useful for controlling the mix. You may have to stretch out for controlling levels or walk away from the mixer to judge if your adjustment has the desired effect. No longer!
FLOW 8 mixers offer full remote control from basically any Android or iOS device, giving you the freedom to go exactly where the sound is ideal for making any sort of adjustment. Tweak the 9-band EQ for the main PA speakers, set the compressor on the bass guitar or adjust the mix for the talents on stage.
Flow Clamp for attaching a Mixer to a Mic-Stand