Mustang™ LT40S
Model #: 2311406000
The Mustang LT40S is the newest addition to the popular Mustang LT series guitar amplifiers. It's ideal for practicing and jamming at home, with 40 watts of stereo power, a pair of high-fidelity, full range 4-inch speakers, a super-simple user interface and full-color display. Mustang LT40S features a collection of presets covering a wide range of music—a "greatest hits" of electric guitar tones. The versatile signal chain with high-quality onboard amp and effects models produces amazing tones. And with the free Fender TONE LT Desktop app download, use your Mac or PC to edit, store and manage your presets with ease. The Mustang LT40S is a fun, flexible and easy-to-use modeling amp for any guitarist. It's the only desktop amp in its class with such a rich feature set.
Features:
• Compact desktop design
• 40-watt stereo combo amplifier
• Dual 4" full range Fender Special Design Speakers
• Wooden cabinet
• Simple user interface with 1.8" color display
• Stereo headphone output for silent practice
• Compatible with Fender Tone Desktop App
60 Presets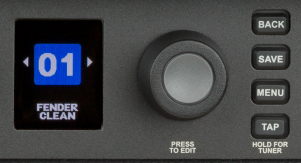 30 pre-loaded presets—plus 30 more slots for writing or downloading additional presets—offer a "greatest hits" of guitar tones that work for almost any genre of music.
20 Amp Types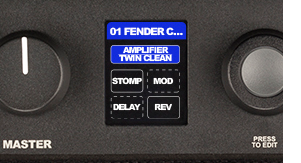 Play with various vintage classics from Fender and others, plus a collection of modern high-gain models.
25 Effects

Enjoy a multitude of unique sounds with the onboard effects—including multiple distortion, overdrive, compression, modulation, reverb, delay and octave effects.
Chromatic Tuner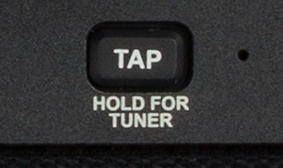 Get your guitar in tune quickly—access the chromatic tuner at the push of a button.
TONE Desktop app for Mac/PC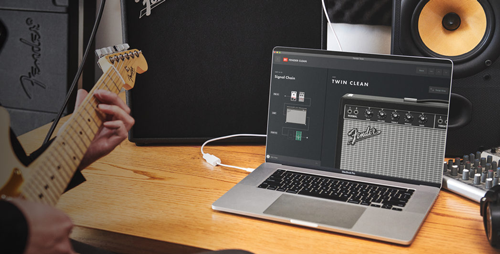 Explore new presets, backup & restore your own presets, and update your firmware if necessary.
Stereo Aux In and Headphone jacks
Jam along with your favorite tracks using the convenient stereo aux input and enjoy some quiet practice time.